Not delivering Brexit at all would be "significantly more damaging" than no deal, Conservative leadership candidate James Cleverly has said.
However, the Brexit minister added that leaving the EU without a deal was "not my preferred outcome".
"I am Brexit tooth and claw, but we need to be pragmatic and sensible and leave with a deal," he told the BBC.
Meanwhile another leadership hopeful, Home Secretary Sajid Javid, has vowed to recruit 20,000 new police officers.
Writing in the Sun, Mr Javid says: "More police on the beat means less crime on our streets. Not exactly rocket science is it?"
BBC Reality Check says, under the Conservative and coalition governments, the number of police offices has fallen by somewhere between 19,000 and 22,000.
The contest to replace Theresa May has not officially begun, but the list of hopefuls already setting out their stalls is growing by the day.
A key dividing line appears to be between those who have indicated they would consider leaving the EU on 31 October – the current deadline – without a deal, and those who feel that would be unacceptable.
Lack of experience? Speaking to BBC Radio 4's Today programme, Mr Cleverly – the latest to enter the race – said his party's "political reputation would be damaged" if Brexit was not delivered.
"The idea that we revert to a pre-referendum reality [if it does not happen] is for the birds."
On the possibility of no deal, he insisted it would bring "uncertainty" and difficulty", but would not be the disaster many fear.
When asked about his lack of experience – Mr Cleverly became an MP in 2015 and has only been a minister for a few months – he said "two of our most successful prime ministers" out of the last four had been those with "zero government experience", referring to Tony Blair and David Cameron.
He also welcomed the large number of MPs vying to become leader, arguing that when Mrs May was elected she had been "uncontested and untested" because rivals dropped out – and later turned out not to "fit well with the role of prime minister".
Mr Cleverly was also asked about the possibility of becoming the UK's first black prime minister.
He said it was not something he thought much about, but was "very proud that the Conservative Party looks like it might have the first prime minister from a BME background".
In an open letter earlier, the MP for Braintree in Essex spoke about the need to unite the party, arguing: "We cannot bring the country back together unless the party of government is united, and the party cannot unite if it is led from its fringes."
He added: "To inspire the British people we need to look different, sound different, and offer something new. I believe I can do that."
'Don't speak ill' As the campaign progresses, leadership candidates are signing a "clean campaign" pledge.
Health Secretary Matt Hancock, former Brexit Secretary Dominic Raab and Mr Javid have promised not to "speak ill of fellow Conservatives". Mr Raab said the campaign should be a "battle of ideas not of personalities".
International Development Secretary Rory Stewart has also said he wants to sign up to the pledge.
On Tuesday, Mrs May urged her successor to seek a consensus on Brexit in Parliament, while senior EU figures reiterated that the UK-EU withdrawal agreement could not be re-opened – despite promises by leadership hopefuls to do so.
Who is standing? Along with Mr Cleverly, the confirmed candidates to replace Mrs May are:
Environment Secretary Michael Gove
Health Secretary Matt Hancock
Foreign Secretary Jeremy Hunt
Home Secretary Sajid Javid
Former Foreign Secretary Boris Johnson
Former Leader of the House Andrea Leadsom
Housing minister Kit Malthouse
Former Work and Pensions Secretary Esther McVey
Former Brexit Secretary Dominic Raab
International Development Secretary Rory Stewart
The winner, expected to be named by late July, will also become prime minister. Other MPs are considering running, including Treasury Minister Jesse Norman.
The deadline to put their names forward is the week commencing 10 June, and they must have at least two of their colleagues supporting them.
In June, the BBC will hold a series of special programmes on the race. All candidates still standing by mid-June will be invited to a hustings event on BBC One and the final two will go head-to-head in a Question Time Special.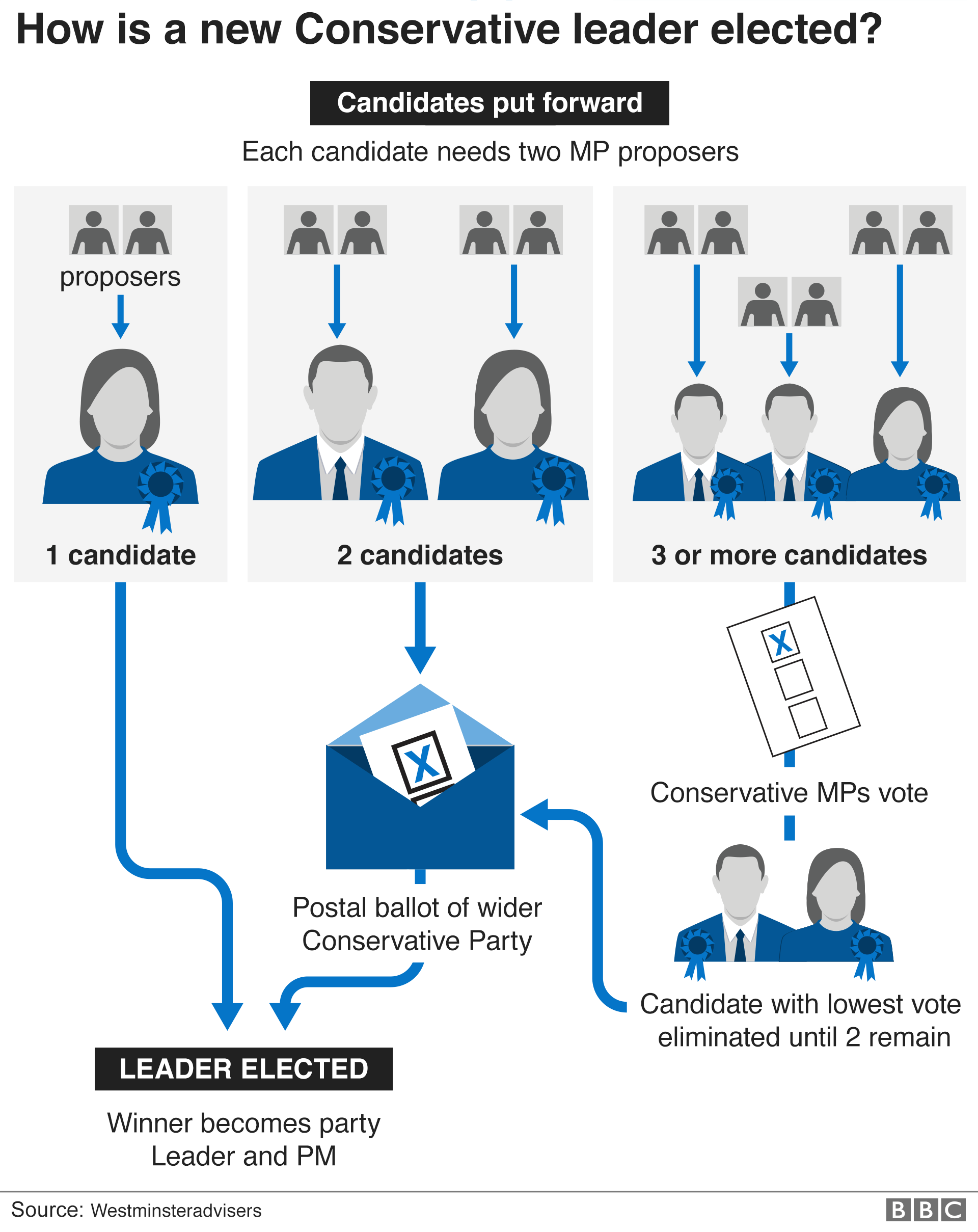 Courtesy:BBC